White Chocolate Cheesecake
My sister found this amazing recipe, and passed it on to me. Unfortunately, I have no idea where it came from.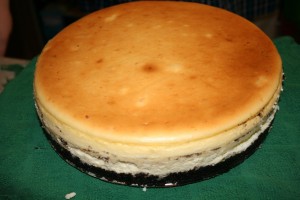 2 8oz packages of reg or light cream cheese
1 cup (minus 1/2 tsp) sugar (I know that sounds ridiculous)
2 tbsp + 2 tsp butter
2 eggs
2 tsp vanilla
6 tbsp cocoa or 3 sq melted white chocolate
1/2 tsp almond extract
1 heaping tbsp sour cream
Crust: premade chocolate chip cookie dough
Preheat over to 350 degrees
combine cream cheese, sugar, butter
combine and beat into cream cheese mixture eggs, vanilla, almond x, chocolate
add sour cream
spread the cookie dough evenly along the bottom of a greased,spring form pan, pour mixture over top.
Bake for 45 min or until center in done
cool and chill or freeze