Because we don't seem to have enough animals in the house we let Riley and Milla get fish too. A fish tank I can support though because I love them too. We discovered that the girls fish were lonely (we discovered this when Milla's first fish tank had to be taken back so we put her fish in Riley's tank until we replaced it and the fish seemed to enjoy each others company) so yesterday we took the girls back to the store to let them pick out a fish friend.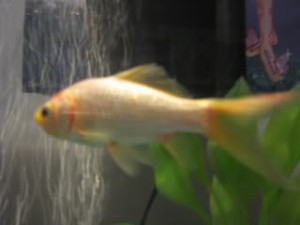 Above is Milla's new fish, a fish who has lost the will to live. That or we have decided that her other fish talked him into performing this nearly fatal stunt.  Maybe it was just initiation but here he is below trying to convince the new comer that this trick is perfectly safe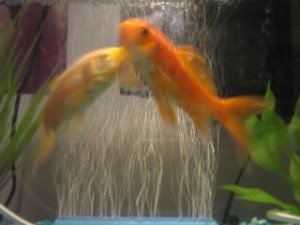 "here, I'll even give you a boost" he says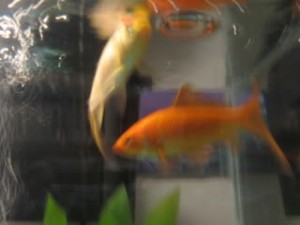 Chris was in with Riley looking at her new fish (who couldn't care less about each other) when he glanced over at Milla's tank and asked "where'd her other fish go?" At first I paniced thinking we hadn't gotten it out of the bag (it was a hard time) and that I had thrown him in the trash hours ago, I mean where else could he have gone. Well, I'll tell you! That suicidal little creature SOMEHOW jumped up through the only opening he could, near the filter. I have no idea how he did it, what's more amazing is that Chris found him STUCK to the back of Milla's dresser gasping for air. He picked him up and put him back in the tank. The fish floated for a minute but slowly started coming back to life. he'd swim for a second and then float again, we didn't think he'd make it the night, but he ended up being fine. i don't know if the other fish feels guilty but he won't leave him alone. He's not being "aggressive" towards him, just up his butt!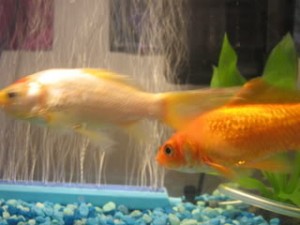 I don't really understand fish mannerisms so I don't know if he's being protective, if he's asserting dominance, or just happy to have a friend, but if that white fish attempts suicide again, I don't think we'll be torturing another "friend". This orange fish obviously has control issues!(obviously the pictures above were taken after we put the fish back in the tank, you can see how the orange fish won't leave the white one alone)
Read More