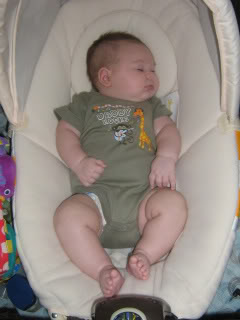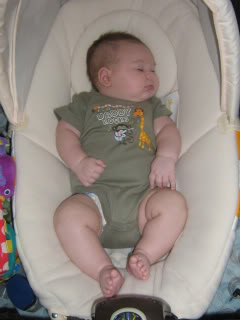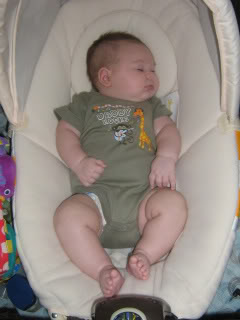 weight: 15.14 lbs (95th precentile)
height: 25″ long (98th percentile)
That's right folks, 15 pounds already!! And it's ALL breast milk baby! LOL, seriously, 15lbs?!! My God, his car seat only holds up to 20lbs!! 🙂 Hopefully this growth spurt will slow down in the upcoming months 🙂 If not, Chris and I are thinking of starting to breed an army, you never know when you'll need one 🙂
For those of you who don't know what the precentile thing means (I didn't), if there were 100 kids, Link would weigh more than 95 of them and be taller than 98 of them! The girls were always in the 90's too but I'd have to go back and check their journals to see exactly how big.
The doctor appointment went well as usual. The other doctor checked him out today, she's more thorough so when it took her several minutes to listen to his chest, Chris and I kept looking at each other like "is something wrong?!" Finally it was the time I had been dreading, time for the needles. It was only 3 instead of the 4 I originally thought. The 4th was an oral vaccine and he drank that with no problem (obviously drinking is not an issue for him). Then they tag teamed him. Two nurses, one for each leg, while Chris held his hand for comfort. When my baby let out that scream of pain, my eyes filled up with tears instantly. The SECOND they were done I grabbed him up and started hugging and kissing him, telling him how sorry I was…I felt horrible!! He never cries and on the rare occasion he does, it's not near the pitch we heard today! I would never NOT do vaccines but still, I get why some people don't. It's not easy to hear your baby cry like that.
So he cried for a few minutes and we stayed in the room so I could nurse for a bit, and then he was okay. He fell asleep on the car ride home but when we got home he woke up. I put him in his swing and he was just smiling and cooing, of course I have him all dopped up on Tylenol right now so he seems VERY happy 🙂 The doctor said because of his weight give him a dropper full and a half!! I have the big bottle of infant Tylenol so I showed it to her and said "THIS dropper full?!!" she said "yes, and a half" 🙂 (man, he's big!).
Our next appointment is in two months on October 7th where he'll get 3 more shots. Then he gets a break.
Besides all that he's doing great! Trying to get more tummy time in and he's starting to lift his head more and more. No rolling yet but still, he's not on his stomach much, not to mention, it's tough trying to flip 15lbs! 🙂 He sleeps awesome at night. His awake periods during the day are longer and longer and naps shorter and shorter so nothing is getting done around here unless my awesome helper Milla is doing it 🙂 I swear that girl is like Monica from Friends 🙂 God bless her 🙂 The swaddling thing lasted once and then he was over not being able to move his arms. He sleeps on his belly for a whole 5 to 10 minutes at a time. Nope, his favorite sleeping spot is on top of large breasts…he is a man 🙂
Okay, until the next update…
Read More