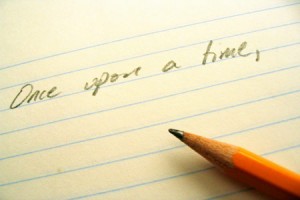 Now that the kids are all in school, I really need to find something productive to do with my time (read: fun that doesn't involve cleaning and/or laundry). I do love to write when I have a spare moment to think without being interrupted by a child, and since my last blog is from MONTHS ago you can see I don't get that time very often. Until now that is. So I'm going to make an attempt to write something every day. Whether I post it or not is undecided, but if I do I promise to write about things other than just my kids…or at least attempt to 🙂 Maybe you'll read them, maybe not. Maybe you'll like them, maybe not, but they're more for me anyway, and if I keep doing it every day I'll get better, and isn't that the point?
So as I was walking the dog this morning I started thinking of what to write about today and realized I have the most random thoughts when I'm exercising alone. I used to walk evenings with my friend Arce, but since the time changes with elementary schools, our evening family routine has been disrupted and I found myself canceling our walks more than going on them. She decided to start an exercise class with another friend and I vowed to myself that I'd walk in the mornings which better fits my schedule (oh the lies we tell ourselves). That's when I discovered the two crazy b*tches that live inside me and how much they hate each other. One is fat and the other skinny and they can't agree on anything! Fat Girl is sitting around, sucking down a mocha frap from Starbucks while Skinny Girl is just happy she got her counterparts fat a** off the couch to get at least one mile in today. Ugh, I totally suck at this! I hate motivating myself, I LIKE to be lazy and eat potato chips by the bag while watching mindless TV, but…I want to be thin and fit too. So until they come up with a magic pill that makes you skinny overnight, I have to sit here with that nagging, skinny, she devil giving me what my kids have dubbed "the evil eye" while reminding me how tight my jeans are getting and how I'd have a lot more clothes if I fit into them like I used to. God, I hate her! Too bad she only weighs 70lbs because Fat girl just pushes her to the side on her way to the kitchen. I wish she'd take over and get my ass in shape. "Round is a shape" Fat girl says with a mouth full of cookies. Meanwhile Skinny girl is running laps around the house as she goes from room to room cleaning and dusting with a happy smile on her stupid face that makes both Fat girl and me want to slap her! We keep giving each other that "let's duct tape her up and throw her in a closet" look but neither of us will get up to find the duct tape and no one really wants to chase her down either. I'd just let her go do her thing if it really meant the house was getting clean but no, only in my head, which means after exhausting myself just watching her do all those things, now I have to get up and make them a reality. I REALLY hate her. And fat girl just laughs at me because we all know SHE isn't going to do it. I hate her too!
Am I really THIS lazy? Not always. Yesterday I did all the laundry, even put it away…the SAME DAY! Yay me! I also picked up the house, cleaned the kids' bathroom, Link's room and play room, and hung up the girls' shirts (God knows they won't and I'll end up rewashing them). And even though I wrote this, when I'm finished I'll go clean the kitchen, make Link's bed and fold up my blankets, and pick up the rest of the house just in time for Link to need to be picked up. I guess the part of me that isn't the Fat B*tch or the Skinny B*tch, just wants a reason to b*tch. We'll call her the PMS B*tch. You may ask,  "is there a part of you that isn't a b*tch?" but the four of us will just look from one to the other confused, and in unison we'll agree on this one thing… If there is, we haven't met her yet.