Baby Diaries – 1 week appt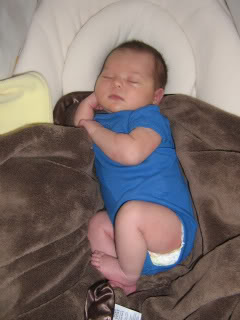 weight: 9lbs 5oz
height: 20.5″ long (which is wrong since he was 21″ in the hospital. I guess she just didn't stretch him enough)
Monday was Link's very first doctor appt (outside of the hospital). We took him to the same pediatrician that the girls go to whom I just love. He looked him over and said he looked great. His circumcision was healing nicely which was a relief because I had been wanting confirmation that it was. His belly button is healing nicely too and that umbilical cord should be falling off soon I guess. I remember it took the girls two weeks for theirs to fall off but that was back when they told us to use rubbing alcohol to clean it, now they tell you not to use anything, that the bacteria inside of it helps to heal it faster and in turn it falls off faster. If this theory is correct it should be falling off this week.
He also said he's gaining weight great and overall looks good 🙂
Next appointment is next Tuesday for his two week. Shots start at 2 months :'(
Besides that, he's been such a GREAT baby! I am so in love! He just fits right in with us, it's awesome. He loves being home in his own space, he doesn't like being handled TOO much but tolerates his sisters wanting to hold him (for a minute anyway). He sleeps most of the day and a good portion of the night which is so nice! No sleep deprivation on our end. If I could just get a handle on diapering him! 🙂 I was so afraid of his circumcision that I would leave his penis pointing up, five outfit changes a day made me realize that wasn't working ! Since I've started pointing it down we're gooing through less clothes 🙂
Chris has been a great daddy (we knew he would be). He has to watch how he holds the baby though because Link's already tried to latch on to him a couple of times 🙂 He's a very protective and paranoid daddy and I love that about him.
Ok, sounds like he might be waking up here in a second so I'd better go. Tune in next week for new updates.